NECKTEC WEARABLES PROJECTS
Innovative NeckTec® products consist of wearable computer in a new form-factor and a number of its accessories. Rethinking the experience of interaction with ubiquitous objects allowed us to create a number
of extremely comfortable and practical devices.
Pivoting two-position earphones
for constant comfortable wear
The earphones developed by our team are designed for constant wearing during the day alternately in one of two positions: in "quality" position (Fig.1) for talking and listening to music, when the earphone is inserted into the ear canal and cuts off third-party sounds by passive noise reduction, or in "comfort" position (Fig.2) for background music and notifications from device, when the earphone is in the concha cavum and does not block the ear canal, which allows you to monitor sounds from the earphone, and at the same time control noises of the surroundings.
Such earphone construction allows to keep the earbud in the ear in either of the two positions all day long without removing.
Hi-end cable in the form of special configuration loop is designed for comfortable use of earphones. The cable can be used with phones, players and Bluetooth headsets. Thanks to occipital node, wires tightly fit the head passing over the ears. The node provides reliable fixation of earphones in ears with any head moves. Wires allow to obtain powerful sound without frequent recharging of earphones.
Embodiments:
Custom IEM Connectors: Dual-Pin / MMCX.
Play Connectors: 3.5MM TRS / 2.5MM TRRS balanced / iOS or Android dual mode microphone.
Could include extension cord.
Patents for NeckTec pivoting earphones
Headset for mobile electronic device.
In-the-ear earphone, its variations and methods of wearing the earphone.
Ear earphone, its variations and metods of wearing the earphone.
The lightweight NeckTec smart glasses will be the most elegant solution on the market thanks to the transfer of batteries and processors in the necklace and to the uplifting mechanism that allows to remove displays from field of view. Users will appreciate convenience of the design and duration of the batteries operation from the necklace, which will radically change the existing pattern of using AVR glasses – people would want to wear them all the time!
By combining our two patented solutions in one device, we obtained the optimal combination of functionality and visual appeal. For both corporate and individual users, the duration of active use is a key factor in choosing smart glasses, but for individual users AVR glasses' aesthetics is extremely important! The market already knows AVR glasses projects that failed because of the bulky design.
We are ready to share our solution and patents with other developers and manufacturers of smart glasses.
Lite uplifting NeckTec® smart glasses - the perfect solution that combines elegance of the usual eyeglass frame and long hours of functioning.
Patents for NeckTec smart glasses
Composite wearable electronic communication device.
Composite wearable electronic communication device.
Eyeglasses with a fixed frame and a rotatable frame
Smart necklace is the ideal form-factor
for wearable computers
We have developed the basis for a wearable computer capable of performing all daily required functions (smartphone, audio player, Bluetooth headset, flash driver, fitness tracker, medical sensor, etc.) and interacting wirelessly with external devices (screens, projectors, computers, turnstiles, additional smartphones, smart home, access and control systems, etc.).
The necklace form-factor ideally serves as compartment for batteries, processors and other equipment for the creation of lite augmented / virtual reality glasses (with connection at the back of the neck).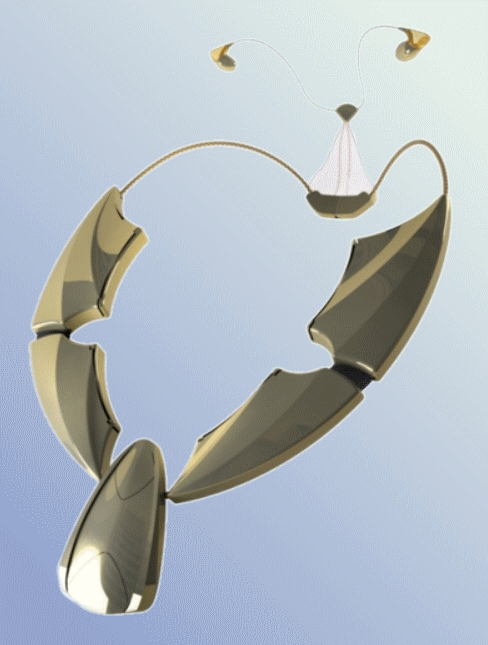 Finally, AVR glasses look elegant and at the same time work for days. It is also an ideal shell for the constantly wearable voice assistant, available at any time – not only when you are at home.
We made a thorough study of the necklace form-factor in regard to wearable computer, we have developed a number of solutions to create the optimal configuration of blocks and their size, shape and location of buttons, the output point of the headphone wires, wires winding and storage mechanisms.
To test the necklace form-factor concept we purchased CSR license and created a number of NeckTec necklace working prototypes with functions of Bluetooth headset, hi-fi amplifier & music player with built-in memory, active noise cancellation based on multi-microphone arrays for clean voice (for commands or phone talking), and with effective passive wind protection. Having performed scientific research, laboratory and field comparative tests, we came up with confirmed
conclusions that some acoustic characteristics of our devices are better than any competition on the market.
The latest modification of NeckTec smart necklace has an unparalleled microphones noise cancellation system. Also note that only professional audio equipment with furry windscreen muff can allow such clear voice recording in windy conditions as our necklace. Improvement of the noise cancellation system based on our unique microphone array with patented topology is still ongoing.
Today augmented and virtual reality glasses have limited application because of bulky sizes or small operation time. Placing of all electronics and batteries in the necklace with a convenient connection with AVR glasses will allow the developers to create lightweight elegant models of glasses with increased battery life time and increased functionality.
All key components of the device are patented in USA, Europe, Russia and other countries.